Asian Shrimp Salad

recipe
Makes 4 servings.
Ingredients:
4 ½ cups water
1 ½ pounds unpeeled medium-size fresh shrimp
1 cup fresh bean sprouts
8-ounce can sliced water chestnuts, drained
¼ cup green onions
¼ cup chopped celery
¾ cup mayonnaise
1 tablespoon lemon juice
1 tablespoon soy sauce
¼ teaspoon ground ginger
1 cup chow mein noodles, divided
Lettuce leaves
Directions:
In large pot, bring water to a boil. Add shrimp and cook 4 minutes, until shrimp turn pink. Drain shrimp and rinse with cold water. Place in refrigerator until chilled, then peel, devein, and chop the shrimp.

In a medium mixing bowl, combine cooked shrimp, bean sprouts, water chestnuts, green onions, and celery.

In a separate small mixing bowl, combine mayonnaise, lemon juice, soy sauce, and ginger; stir thoroughly. Add to shrimp mixture; toss gently. Cover and chill.

Just before serving, stir in ¾ cup chow mein noodles. Divide salad evenly among 4 lettuce-lined plates and sprinkle with remaining ¼ cup noodles.
Back to the Shrimp Recipes home page.
Add a Review or Comment:
Data:
Published: September 24, 2008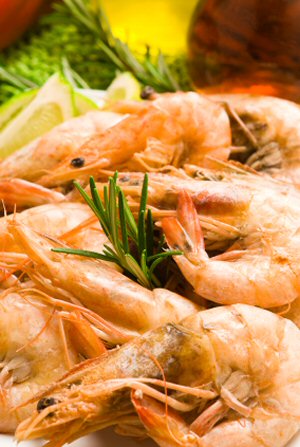 Similar Recipes:
Asparagus Shrimp Salad
Few salads are hearty enough to live up to "entrée" status, but this salad does just that. Loaded with crunchy, sweet vegetable...
Grapefruit and Shrimp Salad
Wow, does this salad taste like summer. It's got fruits, veggies, lean protein, and a fabulous light vinaigrette. Perfect for l...
Asian Grilled Shrimp
Shrimp is an ideal entrée for the grill. It marinades in just thirty minutes, cooks in under five minutes, and is as light or h...