Chilled Shrimp Fettuccine

recipe
This dish is wonderful! Itís a no-cook version of warm, creamy Alfredo, made with just a simple blending of mayonnaise and fresh herbs. Make this for a picnic or light lunch. Makes 4 servings.
Ingredients:
8 ounces uncooked fettuccine
8 ounces frozen peeled and deveined cooked medium shrimp, thawed and drained
1 tablespoon lemon juice
3/4 cup fat-free mayonnaise or salad dressing
1/4 cup chopped fresh parsley
1/4 cup finely chopped red onion (about 1 small onion)
1/4 cup fat-free Italian dressing
1 teaspoon Creole or Cajun seasoning
1/2 teaspoon black pepper
Directions:
Cook the fettuccine as directed on packaging; drain and set aside.

Toss the cooked shrimp and lemon juice in a large bowl. In a separate small mixing bowl, mix all of the remaining ingredients.

Add the mayonnaise mixture and cooked fettuccine to the shrimp; toss to coat.

Cover and refrigerate for 1 to 2 hours to blend flavors; serve chilled.
Back to the Shrimp Recipes home page.
Add a Review or Comment:
Data: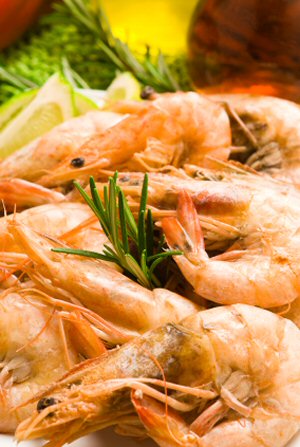 Similar Recipes:
Fried Shrimp
No need to drive out to a fried shrimp shack to get quality fried shrimp; this recipe brings it home for you. Enjoy these on mo...
Quick Grilled Shrimp
When the weatherís fine and youíre feeling like dining al fresco, cook light the grill and enjoy this shrimp recipe. Makes 4 se...
Broiled Cajun Shrimp
Served on tiny skewers on a large platter, these spiced shrimp snacks can be filling enough to make the entree for your ultimat...