Shrimp in Coconut Sauce

recipe
Ingredients:
1 cup unsweetened coconut milk
1 tablespoon fish sauce
1 teaspoon sugar
1/8 teaspoon cayenne pepper
2 tablespoons olive oil
1 pound medium uncooked shrimp, peeled and deveined
4 cloves garlic, minced
2 cups chopped asparagus
2 cups chopped mushrooms
2 cups cooked rice
Directions:
In a small bowl, whisk together coconut milk, fish sauce, sugar, salt, and cayenne. Set aside.

Heat olive oil in a large skillet over medium heat; add shrimp and cook until pink, about 3 minutes. Remove and set aside.

Add onions and garlic to skillet; cook 2 minutes, stirring, until fragrant. Add asparagus and mushrooms and cook 2 minutes, until slightly browned. Return cooked shrimp back to skillet and add coconut milk mixture; bring to a boil over high heat, reduce to a simmer, and cook until thickened, 2 to 3 minutes.

Serve over cooked rice and topped with fresh cilantro.
Back to the Shrimp Recipes home page.
Add a Review or Comment:
Reviews and Comments:
Data:
Published: May 24, 2010
Average rating of
Summary: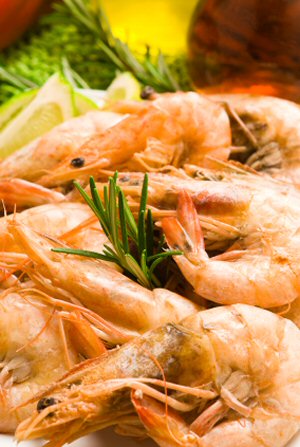 Similar Recipes: