Shrimp soup, though commonly eaten in Asian cultures, is not as well known in the western countries. Enjoy this Cajun-inspired recipe on a hot summer day, as itís incredibly cooling. Makes 4 servings.
Ingredients:
8 cups chicken stock
1 ½ cups dry white wine
1 cup chopped green onions
1 cup chopped parsley
½ cup chopped celery
1 tablespoon diced garlic
1 tablespoon Worcestershire sauce
2 teaspoons Louisiana hot sauce
Salt, to taste
2 lbs of shrimp, shelled, chopped
Directions:
Place all ingredients except shrimp in large stockpot. Bring to a boil, reduce to a simmer, and cook, covered, for 45 minutes.

Add shrimp and simmer for an additional 30 minutes.
Back to the Shrimp Recipes home page.
Add a Review or Comment:
Data:
Published: February 14, 2009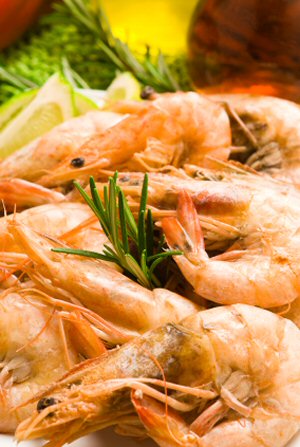 Similar Recipes:
Broiled Cajun Shrimp
Served on tiny skewers on a large platter, these spiced shrimp snacks can be filling enough to make the entree for your ultimat...
Asian Shrimp Salad
Makes 4 servings.
Coconut Shrimp
Take a dive into the flavors of the tropics with a recipe for coconut-battered fried shrimp. These crunchy bites have a slight ...