"Calypso" is the best way to describe this dish: it's like a tangy dance of island flavors, colors, and textures. Tropical mango and citrus make for a delicious summer salsa atop marinated shrimp. A delightful dish on a hot day. Makes 4 servings.
Ingredients:
Bean Salsa
1 15-ounce can black beans, rinsed and drained
1 medium mango, peeled and chopped (about 1 cup)
1 small red bell pepper, chopped (about 1/2 cup)
2 to 3 medium sliced green onions (about 1/4 cup)
2 tablespoons orange juice
1 tablespoon red wine vinegar
1/2 teaspoon grated orange peel

Shrimp
1 tablespoon orange juice
1 tablespoon vegetable oil
1/2 teaspoon grated orange peel
1 1/2 teaspoons of chopped fresh thyme OR 1/2 teaspoon dried thyme leaves
1 clove garlic, finely chopped
3/4 pound raw medium shrimp, peeled and deveined
Directions:
Prepare the bean salsa: combine all ingredients in large mixing bowl; toss to combine.

Prepare the shrimp: mix the remaining ingredients in a medium bowl.

Spray a 10-inch nonstick skillet with nonstick cooking spray; heat over medium-high. Add the shrimp mixture and cook, turning shrimp once, until pink.

Divide the salsa among 4 serving plates and arrange shrimp mixture atop.
Back to the Shrimp Recipes home page.
Add a Review or Comment:
Data: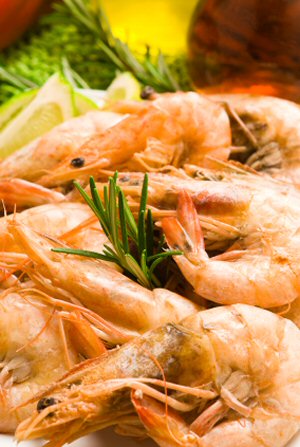 Similar Recipes:
Garlic Shrimp
Garlic and shrimp, with just a simple butter sauce, make for a divine dinner.
Coconut Shrimp
Take a dive into the flavors of the tropics with a recipe for coconut-battered fried shrimp. These crunchy bites have a slight ...
Kung Pao Shrimp
For those who can handle the heat, Kung Pao is an unbeatable dish. It's full of sweet, nutty flavor and lots of crunch—not to m...