Garlic and shrimp, with just a simple butter sauce, make for a divine dinner.
Ingredients:
1/3 cup butter
1 ½ to 2 pounds large shrimp, peeled and deveined
4 to 6 medium cloves garlic, crushed and minced
1/3 cup chopped fresh parsley
2 ½ tablespoons lemon juice
Salt, to taste
Directions:
In a large skillet, heat butter over medium heat until butter stops foaming, about 30 to 45 seconds. Add the shrimp and garlic and sauté over medium heat, turning frequently until the shrimp just turn pink, about 4 to 5 minutes.

Add the parsley, lemon juice, and salt to taste; stir well. Remove the pan from the heat and serve.
Back to the Shrimp Recipes home page.
Add a Review or Comment:
Reviews and Comments:
Comment by Janice on October 18th, 2013:
I just came across this and I have almost everything to make it tonight. Instead of linguini I will bake some red potatoes and serve it with fresh sautéed zucchini. It looks like a great recipe.

Garlic Shrimp Review by Chris D. on June 28th, 2013:
I love this Garlic Shrimp recipe. I added a little black pepper and drizzled it on top of Jasmine white rice. I also prepared the Coconut shrimp recipe and added a plum sauce with it. Super quick to prepare and oh so Delicious! A++
Comment by Tamara Richards on September 27th, 2012:
Wanted something to prepare with elegance and this dish fit the script well... Thank you!
Comment by Laura W. on September 17th, 2012:
Making this tonight. Always add a little red pepper flakes, too, but this recipe is perfect.
Reply by Linda Chrisley on October 28th, 2012:
It looks good, I will make me some tonight.
Garlic Shrimp Review by Yolanda Alicea on September 12th, 2012:
Me and my husband are separated for 9yrs. And he love's shrimps so I was looking for a nice and simple recipe to make for him and I found this one and I'm happy because he will be happy and I might get him back ty.
Reply by Laura on September 17th, 2012:
I hope it works, Yolanda, & hope he appreciates your thoughtfulness. :)
Reply by Jess on September 18th, 2012:
I my ex loves my food also... I think that's what makes me wholesome in his eyes aside from being a good mom to our son... but I'm not looking to get back with him. I hope all goes well with you!
Garlic Shrimp Review by Julie D on August 28th, 2012:
Made this for dinner today and it was a hit with my family. I'm so happy I found a quick and delicious recipe. Thanks :)
Comment by EMarie on August 5th, 2012:
Just made this for dinner. My eight-year-old gobbled it with no complaints (he is a very picky eater). Thanks for sharing!
Garlic Shrimp Review by Patricia on July 12th, 2012:
Great quick meal... paired this dish with sauteed broccoli, carrots, and snap peas... delish!
Reply by Jess on September 18th, 2012:
Thanks for the broccoli idea ;)
Garlic Shrimp Review by Marilyn Nam on June 19th, 2012:
So delicious! I just made this tonight and it is such a success. I also seasoned with pepper. Once finished, I added parmesan and crushed red pepper to my serving. Delish!
Garlic Shrimp Review by Anca on May 23rd, 2012:
I never cooked shrimp before and I was afraid I will ruin the dish. But it was so easy to make, and it only took a few minutes!
Thank you for the recipe!
Showing 10 of 30 total reviews and comments.

Data:
Published: April 26, 2011
Average rating of
Summary: Garlic and shrimp, with just a simple butter sauce, make for a divine dinner.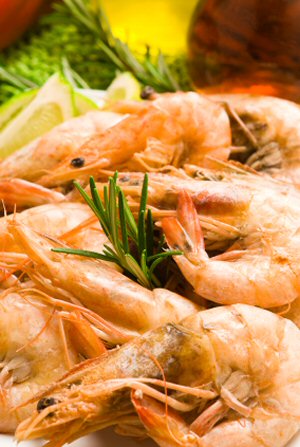 Similar Recipes:
Fried Shrimp
No need to drive out to a fried shrimp shack to get quality fried shrimp; this recipe brings it home for you. Enjoy these on mo...
Barbecue Shrimp
This isn't your thick and super-sweet BBQ sauce from a bottle recipe; no, this is much better than that. Rather, this authentic...
Calypso Shrimp
"Calypso" is the best way to describe this dish: it's like a tangy dance of island flavors, colors, and textures. Tropical mang...