Jalapeño Citrus Shrimp Kebabs

recipe
Grilled kebabs are ideal for lazy summer days with family and friends. They are easy to prepare, cook up in just a few minutes on the barbeque, and are full of robust, smoky flavor. Here shrimp gets lifted with a quick marinade of fresh citrus juices and spicy jalapeño peppers. Grilled with crispy bell peppers and onions, this entrée makes for a healthy and satisfying lunch or dinner.
Ingredients:
½ cup orange juice
¼ cup fresh lime juice
3 tablespoons olive oil
1 tablespoon honey
2 garlic cloves, crushed
2 jalapeños, seeded, minced
1 tablespoon cumin
1 teaspoon grated lime zest
½ teaspoon salt
1 pound shrimp, peeled
1 red bell pepper, cut into large pieces
1 orange bell pepper, but into large pieces
1 red onion, cut into large wedges
Directions:
Preheat grill. Soak long wooden skewers in a bowl of water.

Combine orange juice, lime juice, honey, oil, garlic, jalapeño, cumin, zest, and salt in a large bowl; whisk well. Add shrimp to bowl, cover, and marinate 30 minutes in the refrigerator.

Remove shrimp from marinade and thread onto wooden skewers, along with bell peppers and onion. Cook on the grill until vegetables are lightly browned and shrimp is no longer pink, 3 to 5 minutes, turning once. Serve with rice or pasta.
Back to the Shrimp Recipes home page.
Add a Review or Comment:
Data:
Published: July 12, 2010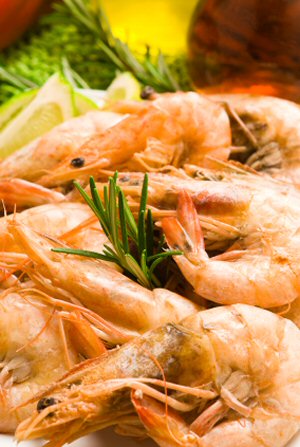 Similar Recipes:
Calypso Shrimp
"Calypso" is the best way to describe this dish: it's like a tangy dance of island flavors, colors, and textures. Tropical mang...
Grapefruit and Shrimp Salad
Wow, does this salad taste like summer. It's got fruits, veggies, lean protein, and a fabulous light vinaigrette. Perfect for l...
Barbecue Shrimp
This isn't your thick and super-sweet BBQ sauce from a bottle recipe; no, this is much better than that. Rather, this authentic...