Savory Shrimp Grits

recipe
Grits are the southern version of polenta, a soft, creamed dish made of cooked cornmeal. This one's full of tender shrimp and has a gentle pork flavor—your family will love it.
Ingredients:
¼ pound thick-cut bacon, diced
½ cup chopped shallots
1 pound deveined peeled uncooked shrimp
3 cloves garlic, chopped
1 teaspoon sea salt
3 cups milk
1 cup chicken broth
1 cup coarse cornmeal
½ cup shredded Cheddar or grated Parmesan cheese
Hot sauce, for serving
Directions:
1) Heat a medium saucepan over medium. When hot, add bacon; cook until just crisp, about 5 minutes, stirring. Using a slotted spoon, remove bacon from saucepan; set aside.

2) Add shallots to saucepan; cook until translucent, stirring occasionally, about 3 minutes. Add shrimp, garlic, and salt; cook until shrimp just turn pink, stirring occasionally, about 2 minutes. Using a slotted spoon, remove shrimp from saucepan set aside.

3) Add milk, broth, and cornmeal to saucepan; bring to a boil over high heat, stirring occasionally. Lower to a simmer and cook until mixture is very thick and smooth, stirring, about 20 minutes.

4) Add reserved bacon and shrimp to saucepan; stir well to mix. Top with desired cheese and hot sauce; serve warm.
Back to the Shrimp Recipes home page.
Add a Review or Comment:
Data:
Published: January 19, 2011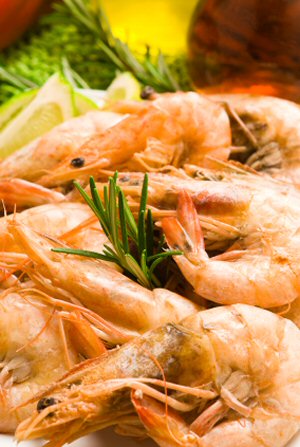 Similar Recipes:
Garlic Shrimp
Garlic and shrimp, with just a simple butter sauce, make for a divine dinner.
Popcorn Shrimp
When you're in the mood for simple finger foods, these crunchy popcorn shrimp hit the spot. Makes 4 servings.
Kung Pao Shrimp
For those who can handle the heat, Kung Pao is an unbeatable dish. It's full of sweet, nutty flavor and lots of crunch—not to m...