Don't be intimidated by the act of rolling sushi on your own—it's deceptively quite easy once you try it! Makes 5 appetizer servings.
Ingredients:
10 uncooked jumbo shrimp, unshelled, deveined
Water, for boiling
1 teaspoon salt
¼ cup vinegar
2 cups cooked sushi rice
2-3 teaspoons Wasabi horseradish sauce
Directions:
Bring a large pot of salted water to a boil.

Using long toothpicks, skewer each shrimp from head to tail. Place in boiling water for 3 minutes, until pink, then transfer to bowl of ice water.

When cooled, remove the shell and skewers from shrimp.

In a small bowl, mix 1 cup water with vinegar; moisten hands in this mixture. Using hands, scoop 2 tablespoons of rice and form into a rectangular block about 2-inches long with rounded edges and sides.

Spread ¼ teaspoon of wasabi over the top of each shrimp. Place the shaped rice on top of the wasabi and press gently. Press into the shrimp, but make sure it holds its shape.
Back to the Shrimp Recipes home page.
Add a Review or Comment:
Data:
Published: January 11, 2007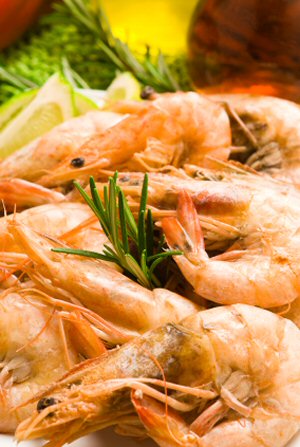 Similar Recipes:
Shrimp Pasta
You're going to love this pasta recipe—it's infused with tomatoes, Italian spices, and lots of cheese. A winner at the dinner t...
Shrimp Bisque
Few soups can hold a light to shrimp bisque—when done right, it's sublimely sweet and creamy with just a hint of bite. This rec...
Cajun Shrimp Soup
Shrimp soup, though commonly eaten in Asian cultures, is not as well known in the western countries. Enjoy this Cajun-inspired ...