Hot and Sour Shrimp Lo Mein

recipe
Recreate the classic Chinese take-out dish at home in under an hour, less time it takes to get it delivered. Makes 4 servings.
Ingredients:
1 pound medium shrimp, peeled and deveined
1 tablespoon Chinese rice wine or dry sherry
1 teaspoon cornstarch
½ pound Chinese egg noodles, fettuccini, or linguini
1 tablespoon sesame oil
6 ounces snow peas
1 cup baby carrots
Two ¼-inch slices ginger, minced
1 red bell pepper, cut into 1-inch strips
¼ cup vegetable oil, for stir-frying

Sauce
Hot and sour sauce, as needed
¾ cup chicken broth
2 tablespoons red wine vinegar
2 tablespoons ketchup
1 tablespoon granulated sugar
2 tablespoons light soy sauce
1 tablespoon cornstarch, dissolved in ¼ cup water
Directions:
In a small bowl, mix together the sauce ingredients and set aside.

Place shrimp, rice wine, and cornstarch in medium bowl; mix to incorporate and marinade 15 minutes.

Fill a large pot of water. Bring to a boil, add noodles, and cook 5 minutes. Drain, rinse with cold water, and drain again. Toss with sesame oil and set aside.

Bring a separate medium pot of water to a boil. Add snow peas and carrots; cook until the turn bright in color, about 2 minutes. Submerge in ice cold water, remove, and drain thoroughly.

Heat 2 tablespoons of vegetable oil in a large wok over medium-high to high heat; add ginger and cook until aromatic, about 30 seconds.

Add shrimp and cook until they turn pink. Remove from the wok and set aside.

Heat an additional 2 tablespoons of oil in wok. Add carrots, cook 1 minute; add snow peas and cook an additional 1 minute; add the red bell peppers and cook an additional 1 minute.

Push the vegetables up to the side of the wok and add the sauce in the middle. Heat to boiling, then add the noodles and shrimp. Mix everything together; heat through and serve hot.
Back to the Shrimp Recipes home page.
Add a Review or Comment:
Data: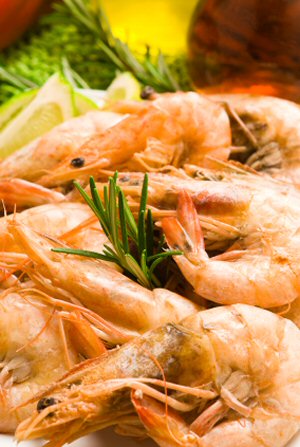 Similar Recipes:
Savory Shrimp Grits
Grits are the southern version of polenta, a soft, creamed dish made of cooked cornmeal. This oneís full of tender shrimp and h...
Cajun Shrimp Soup
Shrimp soup, though commonly eaten in Asian cultures, is not as well known in the western countries. Enjoy this Cajun-inspired ...
Grapefruit and Shrimp Salad
Wow, does this salad taste like summer. Itís got fruits, veggies, lean protein, and a fabulous light vinaigrette. Perfect for l...