Don't be fooled into believing that curry is a difficult dish to master; while it has many dried spices in the mix, it's little more than a simple sauté. Try it once, and you'll see how easy the delicious dish is to perfect. Makes 4 servings.
Ingredients:
3 tablespoons olive oil
1 large onion, chopped
1 one-inch cinnamon stick
6 green cardamom pods
6 cloves
1 bay leaf
2 green chilies, chopped
1 teaspoon minced ginger root
1 teaspoon minced garlic
1 teaspoon ground cumin
1 teaspoon ground coriander
½ teaspoon salt
1 green pepper, chopped into ½-inch pieces
1 ½ cups canned tomatoes, crushed
1 pound large shrimp, peeled and deveined
2 sprigs fresh cilantro, chopped
Directions:
Heat oil over medium in a large skillet. Add onion and cook until tender, 4 to 5 minutes. Add cinnamon, cardamom, cloves, and bay leaf; cook an additional minute. Add chilies, ginger, garlic, cumin, coriander, and salt; cook additional 30 seconds.

Add green pepper and tomatoes, then bring to a boil over high heat. Add shrimp, lower to a simmer, and cook 15 minutes, covered.

Sprinkle with cilantro and serve.
Back to the Shrimp Recipes home page.
Add a Review or Comment:
Reviews and Comments:
Comment by Deborah on September 9th, 2012:
This was awesome! I used chicken broth to saute instead of oil and I didn't add the green pepper, my fifteen year old doesn't like shrimp so we made his with steak chunks! He loved it!
Data: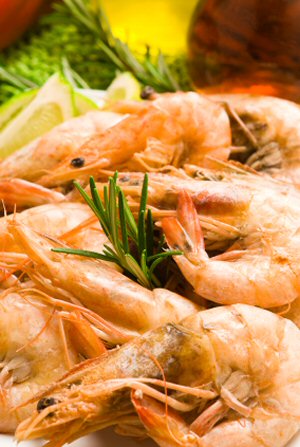 Similar Recipes:
Shrimp Creole
This no-hassle crockpot recipe stews in a slow cooker for several hours, allowing the flavors to become extremely rich and deep...
Shrimp Sushi
Don't be intimidated by the act of rolling sushi on your own—it's deceptively quite easy once you try it! Makes 5 appetizer ser...
Shrimp Bisque
Few soups can hold a light to shrimp bisque—when done right, it's sublimely sweet and creamy with just a hint of bite. This rec...