Sichuan Shrimp with Chili Sauce

recipe
Pump up the heat with our recipe for spicy Sichuan, a Chinese specialty. Itís loaded with hot peppers and garlic, so get ready for heat.
Ingredients:
4 cups water
10 spears of asparagus, tips removed, stems cut in thin diagonal slices
1 celery stalk, cut in thin diagonal slices
1 bamboo shoot, cut into thin diagonal slices
¼ cup vegetable oil
1 pound large shrimp
3 to 6 hot chili peppers
1 tablespoon finely minced garlic
1 tablespoon finely minced ginger
1green onion, thinly sliced
1 teaspoon hot chili paste (optional)
1 teaspoon toasted sesame oil

Sauce:
5 tablespoons ketchup
1 tablespoon soy sauce
1 tablespoon sugar
1 tablespoon rice wine vinegar
1 teaspoon cornstarch
1/2 tablespoon salt
Directions:
In a large pot, bring water to a boil. Add asparagus, celery, and bamboo to pot; boil rapidly until they reach peak color brightness, about 2 minutes. Immediately strain into a bowl and set aside.

Heat vegetable oil in a large wok over high heat. When smoking, add shrimp and cook until pink, about 2 minutes. Remove from heat and set aside.

Add chili peppers, garlic, ginger, green onion, and chili paste to wok; cook 1 minute, stirring.

Add reserved asparagus, celery, and bamboo to wok; cook 2 minutes, until lightly browned. Add shrimp back to wok and stir.

In a small bowl, whisk together sauce ingredients. Add to wok and cook, stirring, until sauce thickens.

Serve hot with a drizzle of sesame oil over each plate.
Back to the Shrimp Recipes home page.
Add a Review or Comment:
Data:
Published: April 26, 2011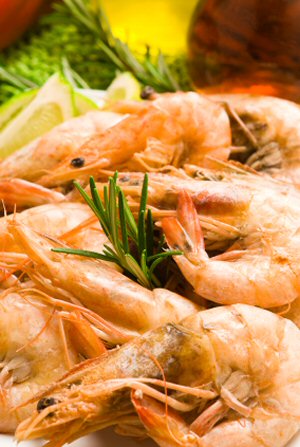 Similar Recipes:
Shrimp in Coconut Sauce
This is a Thai-inspired entrée thatís creamy, sweet, and deliciously satisfying. For those afraid of the intense curried flavor...
Asian Shrimp Salad
Makes 4 servings.
Cajun Shrimp Soup
Shrimp soup, though commonly eaten in Asian cultures, is not as well known in the western countries. Enjoy this Cajun-inspired ...